Never miss another tender opportunity
An RFx notification service complete with an online dashboard, TenderSearch helps thousands of businesses find new opportunities and win more work.
Contract opportunities
Get open tenders, RFPs, RFQs, EOIs and RFTs from countless private organisations and all tiers of government delivered directly to your inbox and online dashboard
Complete coverage
Never miss another contract with over 40,000 new business opportunities in Australia, New Zealand and internationally, distributed every year
Built by tenderers, for tenderers
World-class support
Receive exclusive access to a library of helpful videos and content to help you win more work. Plus, you'll receive a dedicated account manager to support you in supercharging your bids
Cost-effective solution
Design an affordable subscription from less than the price of a cup of coffee per day. Winning just one tender could cover the cost of your subscription for a (very) long time – and then some!
Proposed tenders
When a big tender opportunity is around the corner, getting prepared is especially important. Be notified of upcoming contracts and get a jump start on your competition
Custom notifications
Need a solution for multiple offices or divisions? Set up different daily notifications under your one subscription, so the right teams get the right info
Unlimited users
Keep everyone in the loop with as many users or groups of users as you need, each receiving notifications and dashboard access
Unlimited categories
Our 117 categories cover the A – Z of tendering. Pick and choose from as many categories as you like that are relevant to your business for no extra fee
Archive access
Use your dashboard to search for past tenders up to one year ago. If you're looking for longer, our expert team can help run your search
More locations
Our bread and butter is ANZ, but we also report on opportunities from around the world when they are published in Australia
Analysing the past to help you navigate the future
Explore tailored market insights & uncover stakeholder networks
Analytix

Historical industry data analysis

Geospatial

Smart mapping and spatial analysis

Reports

Local and international economies and construction markets

Custom Research

Specialised analysis and tailored insights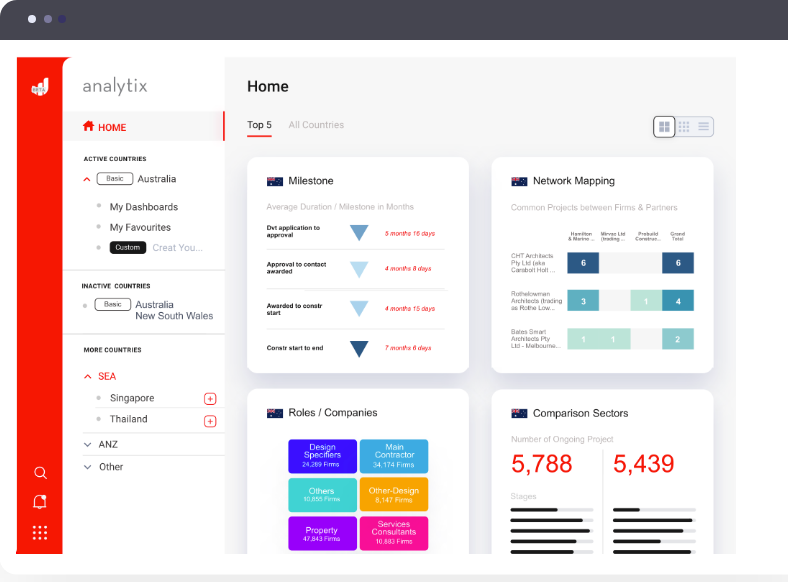 Boost brand awareness and build your network
Connect with design professionals online and face-to-face
Archify

Products, projects and professionals

Education

Continuing Professional Development (CPD) and trainings

Events

Industry-leading exhibitions and awards

Publications

Prestigious, extensive and insightful media